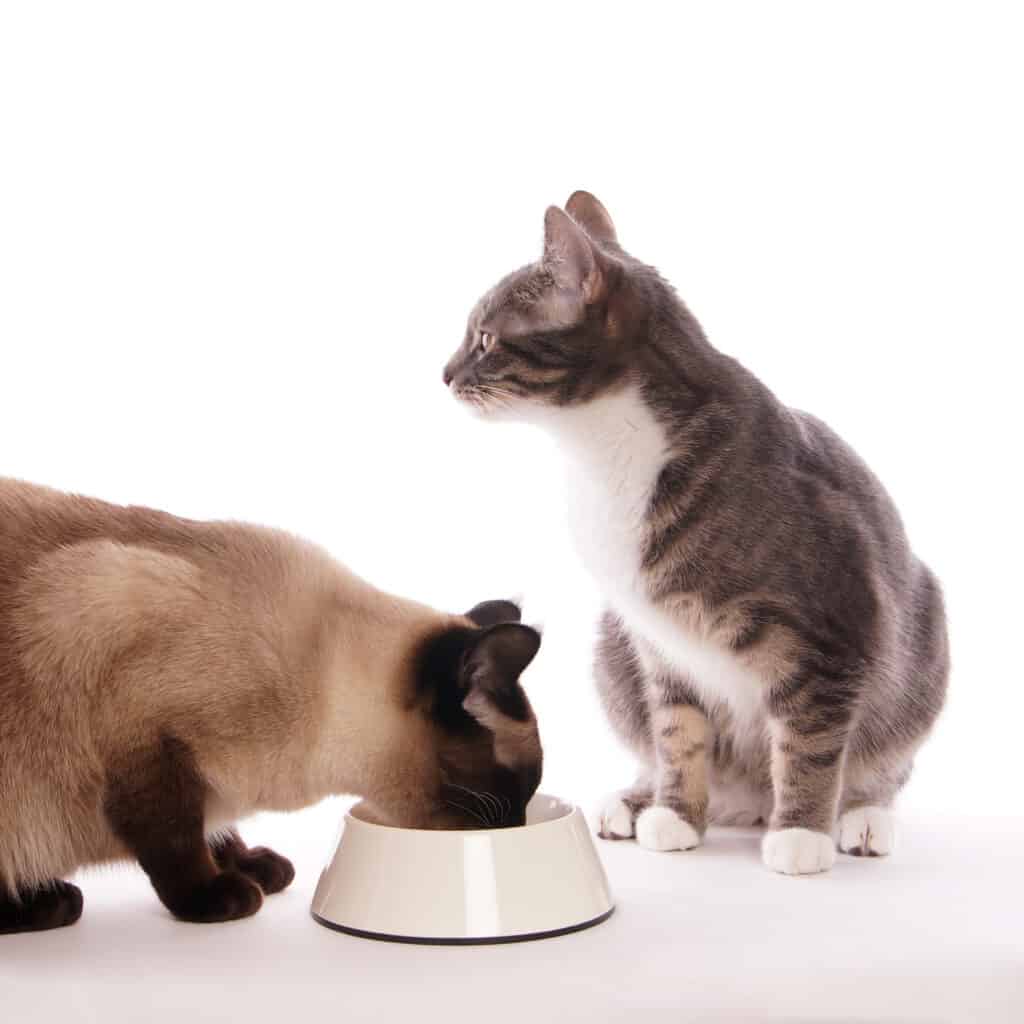 Curious about the best cat food for urinary health? Look no further — as cat lovers and concerned kitty owners, we've also been busy on the hunt. While they are definitely stressful, urinary tract complications are not unusual, so there are plenty of quality options for you to choose from.In this article, we'll explain which ingredients encourage urinary complications, and which promote better feline health. Keep reading to discover the best cat food for urinary crystals brands, specific products, and how you can choose a dinner that your kitty will adore!
Quick Review: Top-2 Urinary Cat Food
Blue Buffalo Natural Veterinary Diet + Urinary Care

First ingredient here is boneless chicken
This provides 38% protein, 11% fat
Gives 352 calories per cup to encourage beneficial weight loss

Royal Canin Veterinary Diet Feline Urinary SO

Helps create an optimal pH level
Includes key fatty Omega acids
Plays a role in preventing urinary crystal formation
Signs Your Cat Needs The Best Urinary Cat Food
Urinary problems in cats are as common as they are terrifying. In other words, they are easily one of the scarier things that most (otherwise healthy) cats will experience at some point or another. Urinary complications can come in several forms, and they often present as:
Painful, difficult urination;
Licking behavior around your cat's urinary opening; and/or
Blood in their urine.
The most common reason for these symptoms is Feline Lower Urinary Tract Disease, otherwise known as FLUTD. It is most common in male cats, whose urethras are narrower and more easily clogged up by crystals, stones, or debris.
FLUTD can also occur as a result of:
Stress/mental trauma;
Injuries/physical trauma of the urethra;
Bladder infections;
Diabetes;
Nervous system complications; or
Hereditary factors.
If your cat is showing any of these signs or symptoms, please take them directly to the vet. Your vet will likely order that Kitty switches to special cat food for urinary health, depending on your pet's diagnosis.
What causes urinary crystals in cats?
There are different types of urinary crystals in cats, and each crystal requires a different environment to develop. Since age isn't really a factor when it comes to the development of crystals in a cat's urine, there are other factors that we will focus on.
Improper diet: In many instances, crystal formation is linked to a cat's specific diet. It's been proven that low quality food filled with improper ingredients, high calories, or an incredibly high amount of protein can result in a change in the urine's PH. Specific urinary PH levels can result in different types of crystal formation.
Long term medication: Some medications can also cause a change in the urine's PH, which can result in the formation of different crystals.
Kidney disease: Kidney disease can also result in a change in urine PH when kidney function is compromised, so this can result in crystal production.
Genetics: Just as other conditions can be passed down, scientists have shown that the chronic production of crystals can be passed down genetically.
History of UTI's: Since some crystals are known to develop along with UTIs, cats who are prone to UTIs can develop crystals.
Wet or dry food for a cat with urinary crystals?
The theory of offering wet food over dry food for cats with urinary crystals comes down to hydration. If a cat's urine becomes too concentrated due to dehydration, this does create an environment where crystals can brew. By offering a cat with diagnosed urinary crystals a prescribed wet food diet, many veterinarians believe that this helps to additionally support the kidneys by giving them extra hydration. There are still conflicting beliefs on this topic, but it certainly can't hurt to offer a wet version of a prescribed diet if you are concerned.
What's The Best Cat Food For Urinary Health in ?
Before looking closer at the minerals and vitamins in urinary cat food, it's important to consider your cat's fluid intake. Research shows that dehydration plays a role in urinary complications – the less water kitty drinks, the more concentrated her urine. This can contribute to the formation of stones and crystals which block the urethra and lead to painful urination.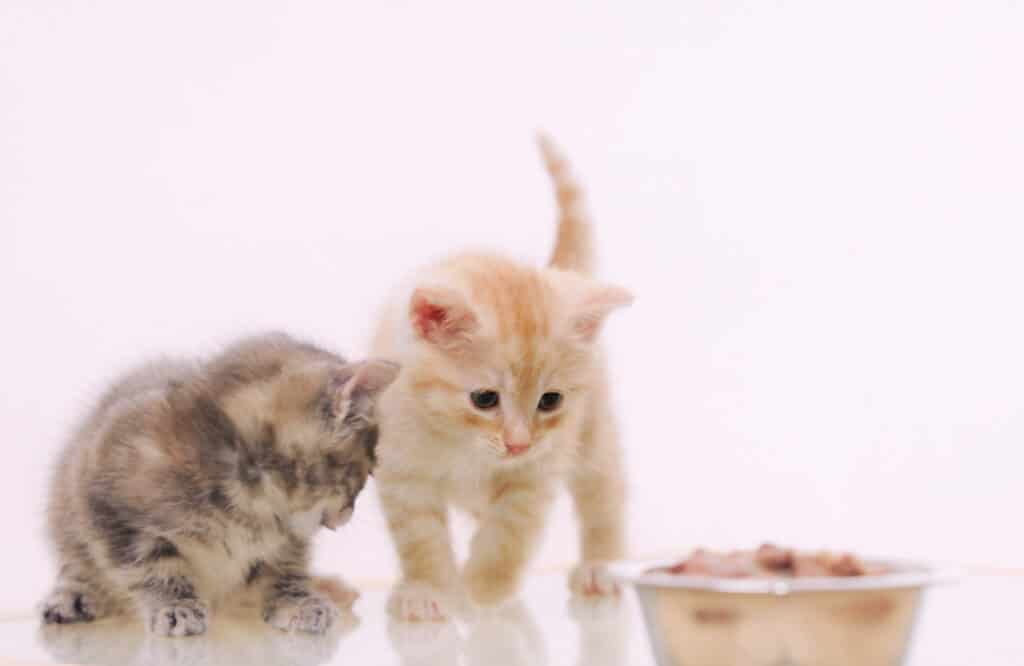 More moisture in your cat's diet will also encourage them to pass a greater volume of urine, which can 'clean out' their urinary tracts of the debris, stones, and so forth that contribute to crystals. Some cat foods encourage greater urinary volume through their balanced formulas, while some will simply have a much higher moisture count because they are canned rather than kibble.
It's why you may see your cat drinking lots more water than usual while suffering from an infection, and also why there are so many soft, canned varieties of urinary tract food – wet food increases your cat's moisture intake. We've made sure to include the best wet cat food for urinary health in our reviews!
Other than this, the best cat food for cats with urinary tract problems will be a prescription recipe that's designed for the particular problem on hand. Let's see what those contain!
What Does The Best Urinary Cat Food Contain?
Prescription recipes focus on alleviating your cat's discomfort, using specific ingredients and formulas to prevent the problem from recurring. But what are those special ingredients, and can kitty still have a balanced diet?
Here's the truth: prescription recipes won't always contain the most natural ingredients. Therefore, you will have less choice when you're restricted to shopping for veterinary formulas — but your cat's health should always be your #1 priority. You will sometimes need to settle for a kibble with the odd animal by-product or filler if it means protecting your cat against painful and potentially fatal urinary conditions.
Warning aside, the best urinary tract cat food usually contains:
Regulated mineral levels – to support good urinary health;
This generally means balanced magnesium, phosphorus, and calcium to prevent crystal buildup;
Ingredients to lower your cat's urine pH; and
Controlled calories – overweight kitties are generally more prone to developing FLUTD.
Ready to look closer at the best urinary cat food brands? Let's see!
Brands Making The Best Cat Food For Urinary Health
Don't know which brand to choose? You may have heard of Royal Canin, Purina, IAMS, and other big 'cat food giants', but what are the specific lines that target health problems like FLUTD? Our top picks include:
Blue Buffalo Natural Veterinary Diet;
Hill's Prescription Diet;
Purina ONE;
Purina Pro Plan;
IAMS Proactive Health;
Royal Canin Veterinary Diet; and
Wysong Uretic.
Your vet may have given you an initial recommendation, but that doesn't mean your kitty has to stick to one brand or flavor for life. Check with his medical professional first, but usually:
Most vets will approve other brands, as long as a formula is designed for your cat's special urinary requirements, and
They don't necessarily need to stick to dry food – often, the best wet cat food for urinary health is just as good.
Best Dry Cat Food for Urinary Health
Blue Buffalo Natural Veterinary Diet Weight Management + Urinary Care for Cats
Pros
First ingredient here is boneless chicken;
Fortified with vitamins, minerals, and natural fiber, this recipe is balanced and holistic for total feline health;
This provides 38% protein, 11% fat, and a good amount of L-Carnitine for healthy metabolism;
With chicken fat and flaxseed, it also offers Omega fats for lustrous coats; and
Gives 352 calories per cup to encourage beneficial weight loss.
Cons
Compared with many other products, we consider this one of the best cat foods for urinary tract health. So no cons!
Our Verdict: 5/5
Blue Buffalo's Natural Veterinary line is exclusively designed to meet the needs of cats with urinary crystals. Its carefully balanced mineral ratios are an effective way to combat struvite stones, and overall it contains a much more natural mix of ingredients than some other recipes we've seen.
Hill's Prescription Diet c/d Feline Urinary Tract Multicare, Chicken
Pros
Has a delicious chicken flavor, designed to appeal to all kitties;
Enhanced Vitamin B6 levels discourage oxalate and kidney stone formation;
Includes fish oil for better skin health and gorgeous coats;
Features potassium citrate – a useful ingredient which counters the buildup of bladder stones; and
Comes in a handy resealable bag!
Cons
Includes maize gluten meal and brewer's rice.
Our Verdict: 4.5/5
While slightly pricier than regular kibble, Hill's Prescription Diet formulas are well worth it. This recipe is recommended by vets all the time for its low salt levels and will help prevent recurring urinary tract crystals. Plus, it has many amazing reviews from happy cat owners!
Purina ONE Urinary Tract Health Formula Adult Cat Food
Pros
Contains limited amounts of magnesium to encourage fewer struvite crystals;
Includes egg for Omega-3, which encourages stronger, more radiant fur;
Formulated to lower urinary tract pH levels and maintain good functioning;
Uses wholesome chicken for a great flavor that your cat will adore; and
Has a unique kibble texture to clean your cat's teeth while she eats
Cons
The label suggests it contains zero fillers, however, corn gluten meal and ground corn are less nutritious than real meat.
Our Verdict: 4.5/5
Developed for grown cats, this is an easy-to-digest recipe that contributes to healthier pH levels and an overall better urinary tract environment. It helps to reduce discomfort in cats with bladder issues and prevent their reoccurrence.
Veterinary Diets Purina Feline UR Urinary Tract Dry Cat Food
Pros
Helps to break down struvite stones and reduce their recurrence;
Discourages calcium oxalate stone growth and reappearance;
Increases the volume of urine that kitty produces, helping to flush out and clean the urinary tract;
Includes good antioxidants to help your cat fight disease; and
Gives kitty 40% as well as whole chicken for a tantalizing flavor she won't be able to resist!
Cons
Includes fillers such as corn gluten and by-product meals; and
Has slightly higher ash than the Purina ONE formula.
Our Verdict: 4.5/5
With taurine for good heart and digestive functioning, this UR formula is low in magnesium and uses real chicken for a delicious dinner. Along with plenty of water, it's a good choice if you would like to keep your cat more hydrated.
IAMS PROACTIVE HEALTH Adult Urinary Tract Health Dry Cat Food
Pros
Optimal potassium and calcium levels promote heart health;
Designed to keep your cat's urinary tract at ideal pH levels for better functioning and improved health;
Includes Vitamin E for good skin;
Uses chicken as the top protein for strong muscles; and
Has a crunchy kibble surface for cleaner, stronger teeth.
Cons
Contains corn and by-products from chicken.
Our Verdict: 4.5/5
This recipe has received awesome reviews from owners of cats with FLUTD. It has a balanced Omega acid ratio for better feline fur and skin, as well as plenty of protein for your grown-up kitty. With chicken as the leading ingredient, it's full of delicious flavor for a tasty mealtime treat.
Best Wet Cat Food for Urinary Health
Royal Canin Veterinary Diet Feline Urinary SO Canned Cat Food
Pros
Helps create an optimal pH level in your cat's urinary tract;
Includes key fatty Omega acids that will give your kitty a nicer coat;
Contains higher sodium levels than regular cat foods to dilute kitty's urine and make it less concentrated;
Plays a role in preventing urinary crystal formation; and
Has a limited amount of phosphorus, calcium, and magnesium.
Cons
Slightly more costly than other cat foods.
Our Verdict: 5/5
Has your cat's vet recommended a high-sodium diet? This Royal Canin formula has been designed by vets and nutritionists to reduce the risk of struvite and bladder stone buildup. It helps clean out your cat's urethra with more dilute urine and helps you avoid expensive vet bills through better urinary health.
Wysong Uretic With Organic Chicken Feline Diet Canned Cat Food
Pros
Great for all cat life stages, and it's 'purrfect' for different breeds;
The first ingredient is organic chicken for plenty of natural protein;
Uses fruits and vegetables for fiber and easier digestion;
Fortified with lots of useful nutrients, this is a natural recipe that targets your cat's urinary system but still promotes overall health; and
It's a hit with picky felines!
Cons
None, this is a very popular formula with cat owners and a great recipe for pets with FLUTD.
Our Verdict: 5/5
Here's a recipe with many more natural ingredients than lots of prescription formulas offer. It's some of the best wet cat food for urinary crystals thanks to its special mineral ratios and also offers an appealing pate texture that your pet won't be able to turn down!
UroMAXX Urinary Tract, Kidney & Bladder Formula for Cats
UroMAXX, Cat & Dog Urinary Tract Infection Treatment, Bladder & Kidney Support for Dogs and Cats, Powerful yet Gentle...
While this is not a urinary diet, it is a supplement that can be added to your cat's prescription diet. This company has been creating animal nutrition products for the last 15 years, and helps to bring relief for several medical conditions that plague cats and dogs. This product helps to discourage crystal production, has added glucosamine to strengthen the urethral lining, has added cranberry extract for antioxidants, and vitamin C for added urinary health. You can easily add a few drops to your cat's food each day and aid in the protection against urinary crystals.
Buy on Amazon
Add to Cart
Pros
Helps to discourage crystal production
Cranberry extracts for antioxidants
Glucosamine for urethral lining support
Vitamin C for urinary health
Cons
We can't find any! This seems like a wonderful addition to any urinary diet.
Our Verdict: 5/5
If you're looking for some extra support in your cat's fight against urinary crystals, this can help give your cat the extra boost they need.
FAQ
What to feed a cat with urinary crystals?
If your cat has urinary crystals, you will need to work closely with your vet to determine the actual crystal that your cat is producing. Since certain crystals thrive in different pH environments, this will help your veterinarian decide which diet option is best.
Though some cat owners prefer to take a more natural approach at their cat's care or solve their problems without medical care, this is a situation that requires veterinary help. Urinary crystals can quickly result in a cat becoming blocked (unable to urinate due to obstruction in their urethra), which is a medical emergency that is fatal if not addressed. Veterinary prescribed diets help to resolve crystals and prevent urethral obstruction, so it's important to follow veterinary advice in this situation.
What are the signs of urinary tract problems in cats?
Some signs of urinary problems are harder to spot than others. They will vary between animals but can include:
Your cat is experiencing pain while trying to urinate;
She is urinating away from her kitty litter – often somewhere cool, e.g. in a corner, on cold paving, or in the sink;
She is trying to urinate more often than usual, and is straining to do so;
Reddish urine, or clear signs of blood in her urine.
Your kitty may also be drinking a lot more water if she has a kidney issue, and because your cat is going through so much unpleasantness, you will likely also notice she is acting cranky. If you suspect your pet has FLUTD or another kind of urinary complication, please take her to the vet as soon as you can. The best urinary cat food will often be part of a larger treatment that can involve antibiotics or similar.
How are prescription cat foods different from regular cat food?
Prescription cat food is specifically designed to control symptoms of illness or delay its progression. The best cat food for urinary tract health, for instance, will help lower the chance of crystal development while dissolving struvite to some extent. Also referred to as veterinary diets, they often include more carefully selected ingredients and use specific ratios to address your cat's specific health requirements.
In prescription kitty kibbles, you will often find a limited number of ingredients. This is done to control the recipe makeup so that the food is safer for cats with health conditions.
Helpful Links