Who Are We?
Here at ABC, we are a group of dedicated cat fans with a commitment to animals. Our team is made up of researchers, owners, and serious pet lovers, and we've come together to create a resource that will benefit cat moms and dads around the world.
Owning a kitten or cat is a big responsibility. Through our articles and reviews, we hope to save you time when you're shopping online. Our pet lovers want to provide advice that will streamline your search for the perfect food, litter, or toys, making your life easier in the process.
Our Authors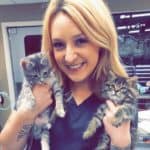 Amber LaRock, Licensed Vet Tech
Amber is a licensed vet tech with a degree in veterinary technology. She has 10 years of experience in this field, and she does part time work at airport freeway animal emergency hospital in eyeless, Texas. She is from the Cedar Valley Veterinary Technology program – Class of 2015. Licensed Vet Tech in the state of Texas. Now she also works online in an effort to spread accurate information on animal care and welfare. She has a passion for helping animals, and will continue to do so in every way she can! Follow Amber on LinkedIn or Facebook.
Our Goal
We're all about happy cats – we know you love your pet and we want the very best for them too. Through great nutrition and products that matter, we aim to promote feline well-being. Our team loves animals and we believe that a happy, healthy lifestyle is easily achievable when you as an owner are informed. It's why our goal is to bring you quality reviews, dietary information, and tips that can help.
Our Story
We've been cat-crazy since Day One. Together, our team has owned dozens of cats, big and small, pure- and mixed-breeds, young and old. We love to learn as much as we can about feline health and behavior so that we can raise well-balanced, satisfied kitties.
We may not be vets or scientists, but our ABC team appreciates the importance of discerning research and expert advice. Our articles are designed to help you find everything you need in one convenient place so you can give your trusted companion the very finest in life. For this reason alone, we're online every day looking for the best and brightest answers to your questions. And we hope it makes all the difference for a thriving, contented kitty and best friend.
To purring cats everywhere!