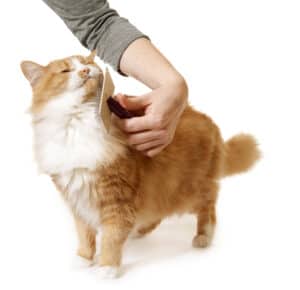 Cats are self-groomers, but that doesn't mean that they can't benefit from a proper brushing. Weekly brushing can help improve your cats coat, reduce their shedding, and a number of other benefits that only the best cat brush can bring.In this article we'll discuss the importance of brushing your cat, and the best cat brushes that we trust to get the job done!
Quick Review: Top-3 Brush For Cat
Safari Self Cleaning Slicker Brush

Convenient grip makes cleaning easy
The pins are located at different angles
Ideal for medium to long hair cats

Hertzko Self Cleaning Slicker Brush

Great for removing shreds
Comfortable rubber handle
Thin wire bristles easily comb wool

Paws & Pals Deshedding Tool

Stainless steel teeth
Works well
Helps reduce wool
Why is it important to brush your cat?
While cats do groom themselves daily, there is only so much they can do for their skin and coat health. They need our help, and brushing your cat is the best help that you can offer.
Some benefits of brushing your cat include:
Reduced shedding: Indoor cats shed year round, and can leave hair behind on every surface they touch. By brushing them weekly or even daily, you can help to reduce the hair around your home significantly. We love our pets, but pet hair can definitely be frustrating.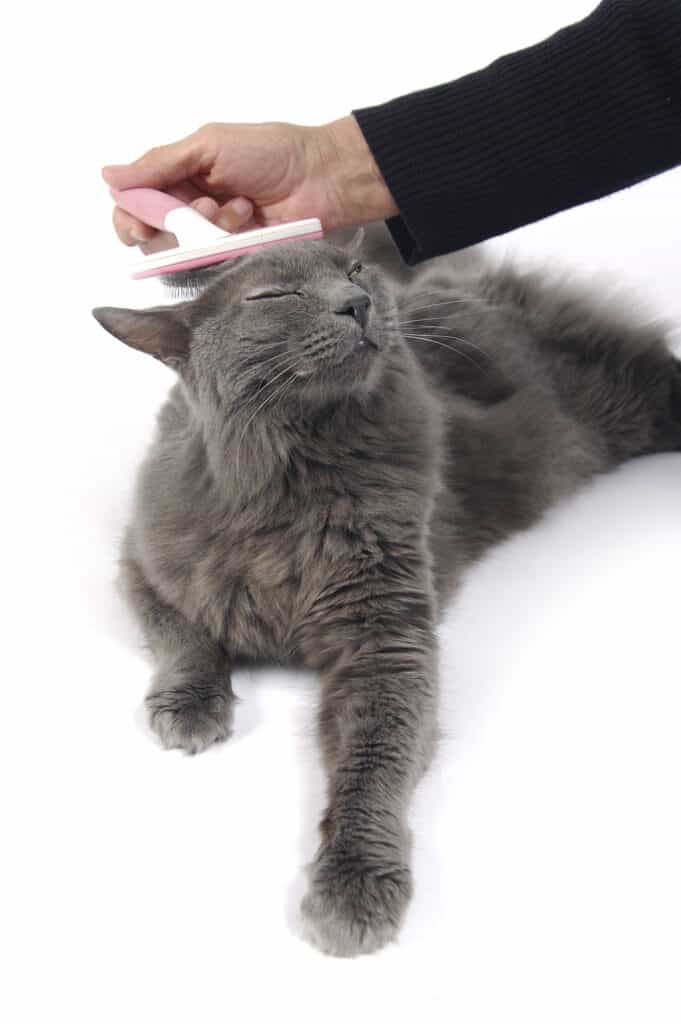 Reduced hairballs: Hairballs can be a huge problem for some cats. They can ingest up to 75% of the fur that they shed, and some cats have a harder time digesting their hair than others. Some cats will vomit their hairballs each day, and this is not only difficult for the cat, but can be frustrating to find around your home. By brushing them frequently, you can significantly reduce the hair that they consume while grooming.
Get hard to reach spots: Our cats are skilled groomers, but even they can struggle to reach certain areas. By giving them an all over brushing we can help to groom some of those hard to reach spots that may have been neglected otherwise.
Prevents matted fur: Just like their canine friends, cats can develop matted fur when they are not brushed frequently. Though cats do self groom, it's not always enough to keep their fur in pristine condition.  Mats are not only unsightly, but they can become uncomfortable and leave your cat susceptible to skin infections. Frequent brushing can help reduce their tangles.
Lets you look them over: Brushing time is a great time to give your cat a good look over. Most lumps and bumps are discovered while grooming pets, so brushing your cat can actually tip you off to any developing conditions on their skin. This is also a great time to check for any fleas if your cat goes outside, or if you have a dog in your home as well.
Bonding time: When you find a brush that your cat loves, they truly enjoy their brushing time. This is the perfect time to bond with your favorite feline friend while giving them the back scratch that they deserve.
How often should you brush your cat?
Your cats brushing schedule will depend on a couple factors. These factors include:
Hair type: Your cats hair length will determine how often you should groom them. If you have a short haired cat, weekly brushing is probably enough along with their daily grooming to still serve them the benefits that come with brushing. If you have a medium to long haired cat, they may require daily brushing in order to prevent mats and tangles.
Age: As cats age their coat will begin to change. Their fur often gets more coarse, and they may not be able to reach the same spots as they used to. Cats even begin to groom less as they age. If you notice that your older cat is grooming less frequently, then consider daily brushing to help them keep their fur managed.
The Types Of Cat Brushes
Slicker brushes: Slicker brushes have thin wires along the brush that sweep through your cats fur while removing dirt and debris. With their thin wires that are positioned in different directions, they are also perfect for grooming medium to long haired cats that are prone to tangles.
Grooming gloves: Grooming gloves are a more gentle approach to cats who are a bit uneasy with regular brushes. Grooming gloves are often similar to rubber brushes, but the rubber bristols are attached to a glove. To groom them you simply perform a petting action, but the glove will pick up excess hair as you stroke their fur. These brushes focus more on loose fur rather than actually brushing and removing tangles, though.
Dematting tools brushes: These tools are designed specially for matted fur. These tools or automated brushes cut through the matted fur without damaging their skin in the process.
Rubber Brushes: Rubber brushes are filled with rubber bristles that work to remove loose fur and lightly detangle at the same time. These are a great option for cats who don;t like the feeling of the wire brushes.
Pin brushes: Pin brushers are a brush that's in between slicker brushes and rubber brushes. This brush works to detangle more than the rubber brush, but the bristols aren't as sharp as the slicker brush. This is also a great brush for medium to long hair cats due to its ability to brush through tangles.
Bristle brushes: Bristles brushes work to gently detangling fur while distributing their natural oils throughout the fur. This is a great option for daily grooming as it will help your cat maintain their shiny coat.
Which brands have the best cat brushes?
There are so many different types of cat brushes on the market that it can be difficult to know which ones you can trust to brush your cat's fur with ease. We've done the research for you and put together a list of the brands we trust to get the job done!
Our favorite brands with the best cat brushes are:
Safari
FURminator
Four Paws
Mars Boar
Hertzko
SleekEZ
Paws & Pals
The Best Cat Brushes in
Safari Self Cleaning Slicker Brush
Safari by Coastal Self-Cleaning Slicker Brush to Reduce Shedding for Everyday Coat Care of All Cat Breeds (W419 NCL00)
This brush is made to impress with its one button self cleaning feature. It's stainless steel pin bristles easily detangle your cats hair, and its self cleaning button immediately sheds any fur you've collected. Even though this brush has serious detangling powers, it won't hurt your favorite felines skin during their daily brushing. The brushing pins are positioned in various angles for maximum detangling powers, but are sensitive enough for them to love every second of it. This brush is perfect for deshedding, catching loose fur, and detangling any potential mats before they start.
Buy on Amazon
Add to Cart
Pros
Comfort grip handle makes grooming your cat easy.
Pins positioned at various angles for maximum detangling.
Self cleaning button removes all your cats collected fur in seconds.
Ideal for medium to long hair cats.
Cons
Some cats who are sensitive to brushing don't like the pin bristles. Some of these cats do get used to the feeling with gentle brushing sessions.
Our Verdict: 4.5/5
This brush is the perfect option for medium to long haired cats. Its multi-positioned pins made removing tangles easy, and the self cleaning button is perfect for easy fur removal.
FURminator Deshedding Tool
Sale
FURminator deShedding Tool for Dogs, Large, Long Hair - 101008
FURminator is well known for their grooming products in the pet industry. With a product line that is designed specially for pet hair, you know that your product will work hard to take care of your pet's fur. This tool is made specifically with shedding in mind, and works to remove as much excess hair as possible. The stainless steel deshedding brush combs deep into your cats fur and works to remove every loose hair in its path. This brush even has an easy removal button that lets you remove all of your cats collected fur with the push of a button.
Buy on Amazon
Add to Cart
Pros
FURminator has an impressive reputation for creating quality products for pet fur.
Rubber grip makes grooming your cat comfortable.
Reduces shedding up to 95%
Easy push fur removal.
Cons
Some sensitive cats don;t like the feeling of the stainless steel comb. Be sure to brush them gently to alleviate this issue.
Four Paws Love Glove Grooming Mitt
Four Paws Magic Coat Love Glove Dog Grooming Mitt
This is the perfect option for the short haired cats who are a bit sensitive to the average brush. This tool acts as if you are simply petting your favorite feline, when you are actually removing loose fur with each stroke. Thus glove is made with soft rubber nubs that remove loose fur while gently massaging your cat's skin. Though this mitt is perfect for gently removing loose hair, it may not do the trick to remove tangles. Because of this, it's best used on cats with short hair. Even if this mitt isn't made for detangling, it a great option for bonding time with your cat who just loves to be pet.
Buy on Amazon
Add to Cart
Pros
Gives your cat a massage they will love.
Great for sensitive cats who don't like being brushed.
Gently removes loose fur.
Perfect bonding time for you and your cat.
Cons
Does not work well for cats with long hair.
Is not a great detangling option.
Will not remove matts or severe tangles.
Our Verdict: 4/5
We love that this mitt gives you and your cat the perfect opportunity to bond. As long as your cat is not in need of serious tangle removal, this is a perfect option for basic loose hair removal and grooming.
Mars Boar Bristle Brush
Mars Boar Bristle Cat Hair Brush, Made in Germany, 3/4" Bristles and 2" Wide Head
This brush is known for its incredible ability to remove dandruff on your cat. With its hard working bristles that are neither too soft or tough, your cat will enjoy their brushing time. These bristles work to comb through a cat's coat and remove any loose hair or dandruff in its path. This brush also hold on to all removed fur during your brushing session so you don;t have to worry about their loose hair flying everywhere during your grooming sessions. Once you are done, you can easily remove the fur from the brush for next time!
Buy on Amazon
Add to Cart
Pros
Great at removing dandruff.
Bristles are not too firm, meaning some of the more sensitive cats still tolerate this brush.
Removes loose hair with ease.
Cons
While this brush is great at removing dandruff and loose fur, it may not work to remove tangles and mats.
Our Verdict: 3.5/5
This is a great option for short haired cats that suffer from dry skin and dandruff. This brush works well to limit shedding in your home as well.
Hertzko Self Cleaning Slicker Brush
Pros
Fine wire bristles comb through short and long hair with ease.
Great for removing tangles of all severity.
Comfortable rubber handle.
Easy fur removal button that allows for fast cleanup.
Cons
Some cats who are sensitive to brushing don't tolerate the wire bristles. Working to brush them lightly helps alleviate any discomfort.
Our Verdict: 4.5/5
This is a top contender in the cat brush world. With its ability to detangle fur of all types, this is the perfect option for any cat.
SleekEZ Deshedding Grooming Tool
Pros
Great for short haired cats with dandruff.
Ideal for removing loose fur, dandruff, and dirt.
Round shape makes it easy to hold during grooming sessions.
Simple and effective
Cons
Though it's great at removing dandruff and loose fur,it is not ideal for removing serious tangles and mats.
Our Verdict: 3.5/5
If you're looking for a standard option for deshedding, this is perfect for your cat. It's been a simple favorite in the cat brush world for a reason!
Paws & Pals Deshedding Tool
Pros
Stainless steel teeth work to remove loose fur and your cat's undercoat.
Works well to remove dandruff and dirt.
Helps to decrease the amount of hairballs your cat produces by removing loose fur.
Cons
Some cats are sensitive to the feeling on the stainless steel bristles.
Our Verdict: 4.5/5
This is a great option for cats with short or long hair, as it fights tangles in all fur types!
FAQ
How can frequent brushing reduce hairballs?
Cats get hairballs because they consume about 75% of the fur that they shed. When you groom them frequently, you reduce the amount of hair that is shed each day, and in turn reduce the amount of hair they consume. If they don;t consume as much hair, they won't produce as many hairballs.
How is frequent brushing good for a cat's health?
Brushing your cat's hair can reduce hairballs, help you bond with your cat, help you feel any lumps and bumps, and help you search for any fleas and ticks as well.
Why do older cats stop grooming as much?
Older felines stop grooming as much for a number of reasons. It may be more uncomfortable to contort their body the way they used to, they may be arthritic, they may not be feeling well, and they may lose interest in grooming with time. Thats why its extremely important to help your cat groom themselves if you notice a decline in their grooming habits.